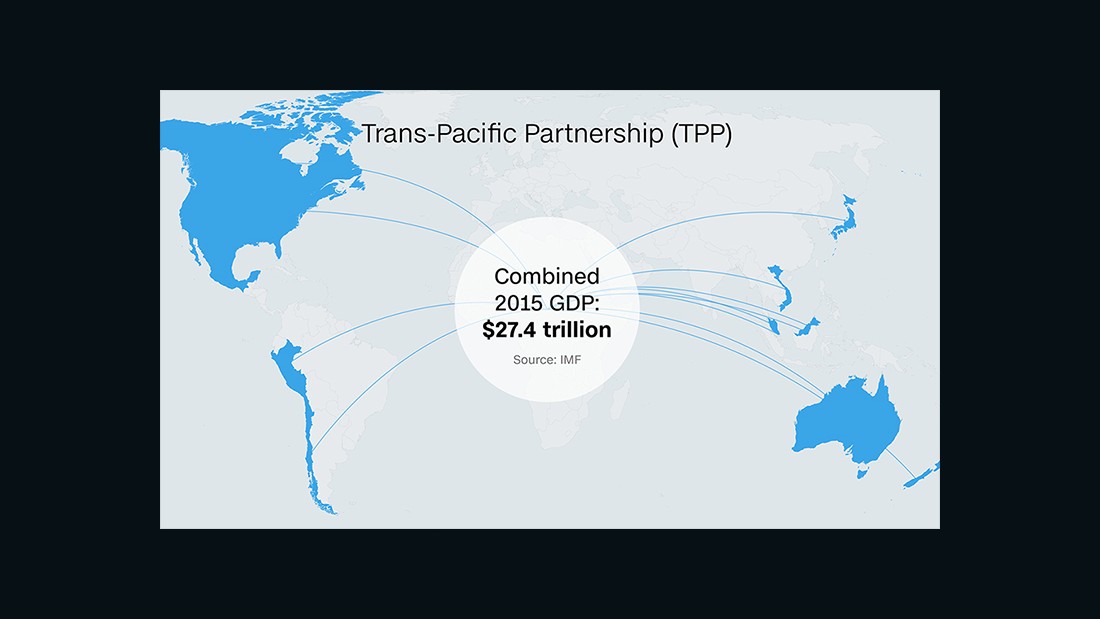 (CNN)US President Donald Trump dealt a death blow to the Trans-Pacific Partnership, a trade deal being negotiated between 12 nations who represent more 40% of the global economy.
The other 11 countries knew this was coming — Trump excoriated the TPP, among other trade deals, on the campaign trail, saying that the deal would send jobs overseas and benefit special interests rather than American workers.
His election in November all but sealed the TPP's fate, at least in its current form.
So what's next for Australia, Brunei, Canada, Chile, Japan, Malaysia, Mexico, New Zealand, Peru, Singapore and Vietnam?
Though free trade and tariff reduction was a big focus of the TPP, it also set out rules amongst participants on a host of economic industries, including forced labor, environmental laws and intellectual property rights, among others.
"Its explicit aim to establish a trans-regional platform that bridges Asia and North and South America," Sols writes. "It gives its rules and standards the opportunity to disseminate far and wide."
It's not a zero-sum game, but if you're not at the table, you're on the menu.
So by being one of the TPP's first signatories, countries could help influence the rules, rather than be bound by them later on.
The full text of the agreement can be found here. A dedicated TPP website from the Office of the United States Trade Representative is no longer accessible; it now redirects you to the USTR homepage.
So is it dead?
In its current form, likely yes.
Despite the comments from TPP leaders eager to revive the agreement in some form, it won't have the heft of the original.
"While the other 11 TPP members could create a parallel agreement without the US and move forward, the economic benefits will be significantly reduced without the US participating," Biswas said.
"If the other 11 TPP members do decide to move ahead with TPP, it is possible that other Asia-Pacific countries could eventually join the TPP agreement, adding to its importance," he added.
From a technical perspective, it's nearly impossible to revive the TPP.
That means that the US and Japan would both have to ratify the TPP in its current form for it to go into effect.
The other TPP countries could in theory go back to the drawing board and amend the agreement, starting with Article 30.5.
It wouldn't be the TPP per se, but it would be similar.
Read more: http://www.cnn.com/2017/01/24/asia/tpp-other-11-countries-what-next/index.html