One makeup artist's transformation from a beautiful blonde to the acid-splashed Batman villain Two-Face is sure to turn heads.
In an astonishing GIF, artist Kay Pike brings the former Gotham DA to life after intrinsically painting her body with the villain's split suit and seared facial features.
Perhaps even more amazing than her character appearing to pop out of the pages of a comic book is that she single-handedly pulled off the painting — a skill she only recently learned.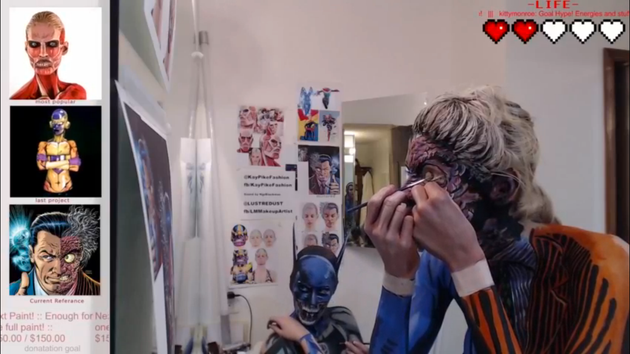 "I first tried painting myself about three weeks ago! That is when I did my 'Attack on Titan' body paint," she told the Huffington Post via email Thursday. That particular artwork left her resembling one of the muscle and tendon-exposed creatures that star in the popular Japanese comic series.
During her latest masterpiece, each step was captured in a series of videos streamed on Twitch.TV while working alongside professional makeup artist Lianne Moseley.
Moseley, who Pike said she became friends with while modeling at the Edmonton Expo, meanwhile made herself up as a Black Lantern Batman.

Their impressive transformations took all day, she said.
"We take some photos in our living room," she said of their end result, "and then comes the shower!"
While their artwork is temporary, Pike called it extremely gratifying.
"You can't take breaks, or put it away and work on it tomorrow. You have to put your heart into it 'in the now' as it will be gone so fast," she said.
"Also, then you do not get the Dorian Gray effect so many artists get where you notice problems with your art later," she said, referring to Oscar Wilde's vanity-obsessed character in his novel, "The Picture of Dorian Gray."
"It's so temporary you only have that high of positivity from doing the creation itself," she said.
Pike, who lists herself on her Facebook page as a model, entertainer and entrepreneur, has pulled off a range of other characters, including Cheetara, Dragon Ball villain Frieza, Iron Man and a number of other Marvel characters.
She describes body painting as "just a really expensive hobby."
Read more: http://www.huffingtonpost.com/2015/12/31/artist-two-face-transformation_n_8899744.html