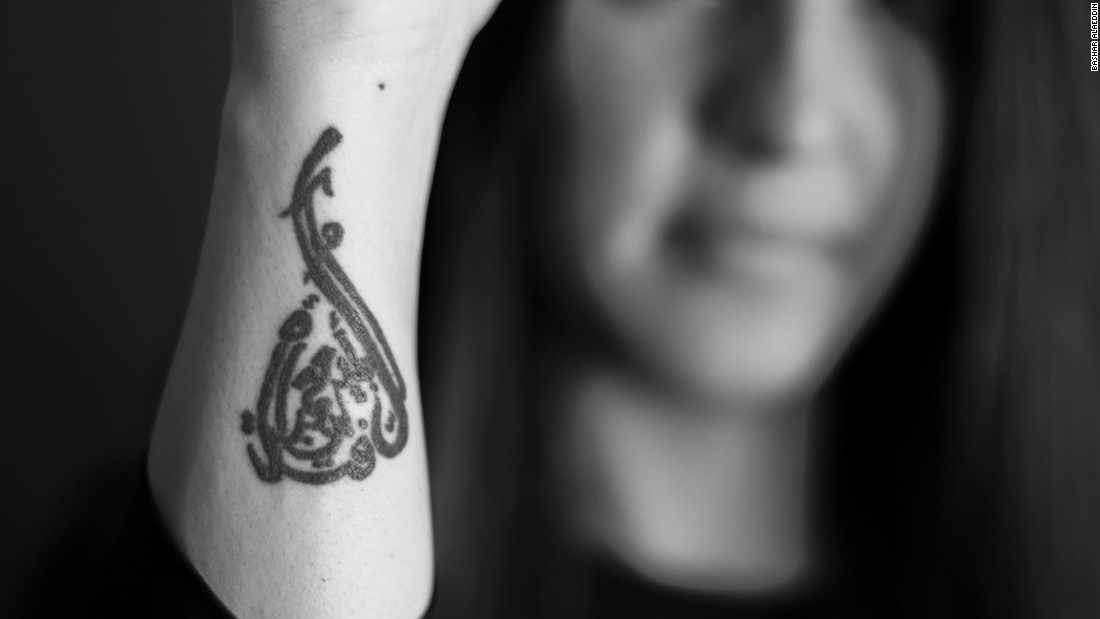 (CNN)One of 20-year-old Texana Mubaidin's defining features is her elaborate tattoo.
The hand-drawn goat, which symbolizes her zodiac sign, the Capricorn, stretches up her arm and across her shoulder, and accompanies her three other tattoos.
It's a bold statement, which a couple of decades ago would have been unthinkable.
But attitudes towards body art in the Middle East are changing, as illustrated by a new photo-documentary project by Jordanian photographer Bashar Alaeddin.
His series,
Arab Ink
,charts the relationship between Arabic calligraphy and tattoo art, and the role the latter plays in self-expression.
Alaeddin's project, which started in 2014, often features the work of the tattoo artists at
Huzz Ink
.
The tattoo parlor, where American-Jordanian Mubaidin is assistant manager, is part of this a wave of tattoo parlors in the region.
"In the Middle East and Jordan, tattoos have been considered taboo, or haram (forbidden or proscribed by Islamic law)," says Saif Hourani, manager of Huzz Ink.
"Now we see a lot of people — like way more people — getting tattoos, especially young people. They are Jordanian, Arabs.
"Sometimes people come from Saudi Arabia, Tunisia, Libya."
A lasting impression
Huzz Ink's headquarters in the Jordanian capital of Amman feels like the home of a perfectionist — meticulously clean and clinically organized.
Leather couches, an eclectic contemporary art collection, and a wall of carefully arranged photographs of inspirational tattoos lend the place some character.
Read more: http://www.cnn.com/2016/12/11/arts/amman-ink-jordan-tattoo/index.html