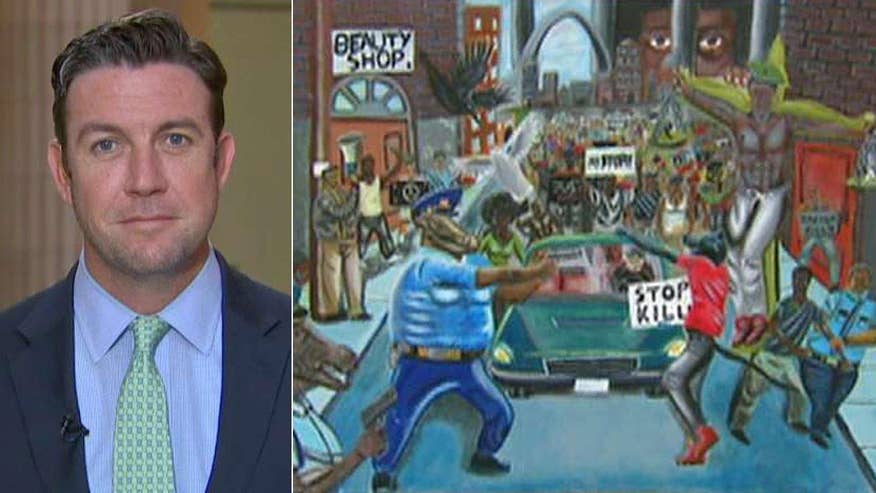 A controversial painting on Capitol Hill depicting a police officer as a pig was becoming the very definition of a political football Tuesday as Democratic and Republican lawmakers repeatedly passed it back and forth in a growing tit-for-tat.
Democratic lawmakers tried twice to put the painting back on display after a GOP colleague took it down Friday amid outrage from law enforcement groups.
But every time they did, it was taken down again. Most recently, Rep. Dana Rohrabacher, R-Calif., took it down late Tuesday afternoon and brought it to the office of Democratic Rep. Lacy Clay, from whose Missouri district the picture came. Clay once again hung it up, saying he was "an expert at hanging artwork."
Rohrabacher called the painting an insult to all police.
Its unclear whether House leadership or some other office will step in to resolve the dispute.
The painting was part of a student-art contest on display along a Capitol Hill corridor and remained largely unnoticed for about seven months, until officer groups began to complain. California Republican Rep. Duncan Hunter on Friday personally removed the painting, saying he was angered by its depiction of police.
Clay and fellow members of the Congressional Black Caucus hung the painting back up Tuesday morning, calling Hunters action blatant censorship.
But then another Republican colleague, Colorado Rep. Doug Lamborn, took the painting down Tuesday afternoon, bringing it back to Clays office and saying it doesnt belong in the Capitol.
Clay rehung it again only for Rohrabacher to take it down. Again.
It was wrong and it was inappropriate, Clay said Tuesday morning of efforts to take down the painting. Its not about defending an art contest. Its about defending the Constitution.
Clay has said he wants Capitol Hill police to file theft charges against Hunter, who after removing the painting returned it to Clays congressional office. Clay said he has not heard from the police but does not intend to personally take legal action.
Fox News has learned the Capitol Police are not expected to take up the probe.
Clay insisted he is not anti-police and said he does not agree or disagree with the painting — arguing his intent is to defend the First Amendment rights of the 18-year-old artist, David Pulphus.
He argued the artists world view has been shaped by the animalistic behavior of police officers, particularly the recent, high-profile cases in which unarmed black males died in confrontations with police.
Hunter said Tuesday before the painting was rehung: It doesnt belong in the U.S. Capitol. Its that simple. It violates the rules of the art competition. You cannot have offensive things in the competition and this does.
He said the rules do not allow paintings with "sensationalistic" subjects or those that depict "contemporary political controversy."
The acrylic painting depicts a police officer as a pig in uniform aiming a gun at African-American protesters. Above the scene, two birds — one black, one white — fight, and beside them, an African-American protester holding a scale of justice is crucified.
Law enforcement groups had strongly objected to the paintings display on the Capitol complex grounds, with one group calling it reprehensible, repugnant and repulsive.
Rep. Barry Loudermilk, R-Ga. told Fox News he wants Congressional officials to replace the painting with a poster of all of the names of police officers who have been shot and killed.
Earlier Tuesday, Hunter said on the Fox News Channels Fox & Friends: The Capitol Police arent going to arrest me for taking down a picture that portrays them as pigs.
He plans to ask the Architect of the Capitol to have the painting removed.
FoxNews.com's Joseph Weber and Judson Berger and Fox News Chad Pergram and Jason Donner contributed to this report.
Read more: http://www.foxnews.com/politics/2017/01/10/political-pig-skin-lawmakers-scuffle-over-controversial-capitol-hill-painting.html