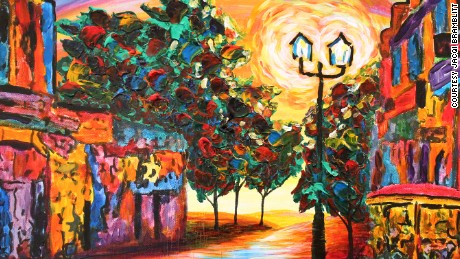 (CNN)John Bramblitt believes he could draw before he could walk. Drawing and illustrating just clicked with him from the beginning, but he also loved telling stories with words. He would share his written stories with his family and friends, but the art remained personal.
Art was also his way of coping with spending much of his childhood in the hospital. After experiencing his first seizure at age 2, Bramblitt was diagnosed with severe epilepsy. By the time he was 7, he'd had surgery to remove his left kidney. Doctors believed that renal failure was causing his seizures, but he continued to have seizures.
To cope, he turned to drawing. "Art was a great way to deal with a bad day and celebrate a good day," said Bramblitt, now 41.
At age 11, Bramblitt suffered a troubling number of seizures, more than ever. After nearly four years, he was diagnosed with Lyme disease.
He began a new treatment for epilepsy in an effort to control his seizures at the same time he began treatment for Lyme disease. It caused the seizures to increase in magnitude. During each, his heart and breathing would stop, causing irreparable damage.
He experienced some hearing loss, and after each seizure, his vision would remain blurry for a while, but then it would clear up, he said. What neither he nor his doctors realized was that his vision was decreasing each time. The cascading temporal lobe seizures, which begin in the front of the brain and cascade toward the back, had the same effect as a hit to the back of the head over and over. His occipital lobe, known as the visual processing center of the brain, suffered from these severe, repeated attacks.
"Art is this wonderful thing that forces you to focus on the creative and what you can do," he said. "It doesn't matter what you can't do. You have an idea, and you figure out ways how to make that idea come true. You get in this habit of thinking in a positive and creative way. When I'm painting, I'm only thinking about the end of that brush, and it puts me in that moment. It's a much calmer, happier place to be."
Bramblitt began showing his art at a local art cafe as well as a gallery at the university. At first, he would stand off to the side and didn't tell anyone he was blind. Soon, he realized that he didn't have to hide it, and he was able to open up and talk about what the pieces meant to him.
Although Bramblitt is an artist full-time now, he hasn't turned his back on writing. He wrote a book about his journey called "Shouting in the Dark." Over the years, Bramblitt has connected with charities and started a series of workshops for artists with and without sight, young and old. He believes art should be something everyone can connect with and works with museums to make them more accessible for all. After all, art changed his life.
A few years after losing his sight, a friend invited Bramblitt to meet a girl at a wrap party, where the university's student newspaper staff celebrated the last paper of the semester. Instead, he ended up meeting the host, who studied journalism but had also received a degree in art.
"Jacqi was just the sweetest, nicest and funniest person," Bramblitt recalled. "She was brilliant, and I immediately wanted to be friends with her. We hung out and talked that night, and we've been hanging out ever since."
Next year, the couple will have been married for 10 years. They live in Denton, Texas, and have an 8-year-old son, Jack. And thanks to treatment, Bramblitt's epilepsy is manageable.
His family has changed Bramblitt's life.
"I thought I understood what color was until my son was born," he said. "I was able to feel my son's face the moment after he was born and see what he looked like. Without these touch techniques from painting, I wouldn't have been able to do that. And whenever I did that, the colors in my mind would just explode, and all of my paintings got so much brighter after that. If you would have told me 15 years ago that I would have so much love and color in my life, I would have thought you were crazy. I'm still blind and still epileptic, but I'm happier than I've ever been in my life."
Read more: http://www.cnn.com/2016/08/12/health/turning-points-blind-artist-john-bramblitt/index.html