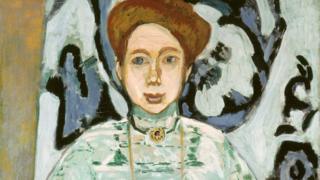 The National Gallery in London is being sued by heirs of the subject of a 1908 Matisse portrait.
Three grandchildren of Margarete Moll, known as Greta, claim the gallery is unlawfully displaying the painting, and say it was stolen after World War Two.
They began proceedings in a federal court in New York on Wednesday, claiming the Portrait of Greta Moll is rightfully theirs.
The National Gallery said it had received the legal documents.
'Family heirloom'
The grandchildren – British-born Oliver Williams and Margarete Green and Iris Filmer of Germany – have been trying to gain possession of the painting for five years.
They want $30m (23m) in compensation if the work is not returned.
The heirs filed their case in New York because they say the National Gallery has commercial interests in the US and has profited from the work through its display and the sale of associated merchandise.
"This is a family heirloom of their grandmother, by Matisse, which belonged to her," their lawyer David Rowland told Reuters.
"It is not acceptable, moral or legal for museums to bury their heads in the sand, and keep stolen paintings in their collections."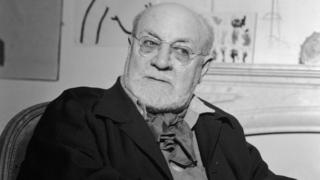 Moll, a pupil of Matisse, is believed to have sat for 10 three-hour sessions for the portrait.
Her husband Oskar bought the painting from Matisse, the complaint said.
Moll lived in Germany during the war and gave the painting to her husband Oskar's art student, who lived in Switzerland, for safe-keeping from looters after the conflict ended, according to the complaint.
The student ran off with the painting and the work passed through the hands of US art galleries until it was bought in 1979 by the National Gallery in London, it is claimed.
The heirs say the gallery should have been more suspicious of the origins of the painting but its director Gabriele Finaldi has refused to return the oil painting because of "statutory constraints".
The National Gallery said in a statement: "The gallery has received the legal documents. We have no comment to make at this time."
---
Follow us on Twitter @BBCNewsEnts, on Instagram, or if you have a story suggestion email entertainment.news@bbc.co.uk.
Read more: http://www.bbc.co.uk/news/entertainment-arts-37316937