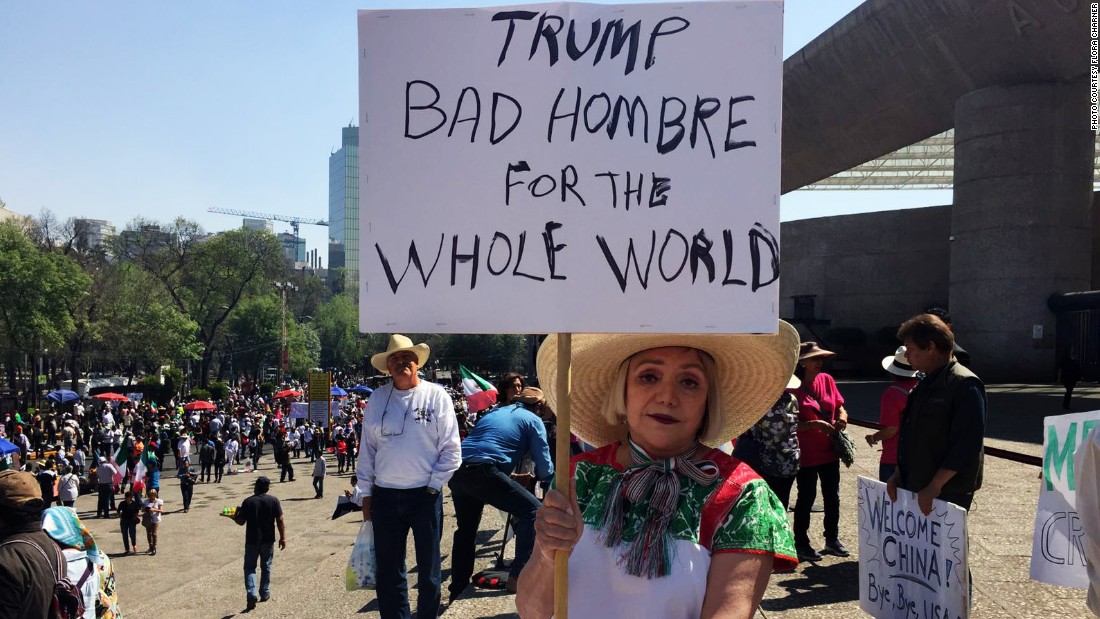 Mexico City (CNN)Mexicans took to the streets Sunday to air their grievances against President Donald Trump and to protest corruption in their home country.
Two separate demonstrations, which together drew an estimated 20,000 people, merged on Mexico City's main avenue, Paseo de la Reforma, in a march mostly focused on the new US President.
Marchers convened on the avenue near the US embassy, where riot police and barricades were staked out. A sea of Mexican flags and anti-Trump signs surrounded one of the city's main monuments, the Angel of Independence, a block from the embassy. One man burned a doll of Trump, drawing smiles from the crowd.
'Mexico has never been so threatened'
Some marchers wore shirts that read "Nasty Woman Keep Fighting."
"We are sending a message to Donald Trump: No wall. No immigrant raids. No aggression to Mexico," said Denise Dresser, a professor in Mexico City who made 350 of the shirts with donations. "Mexico has never been so threatened and never have we had a government so incompetent."
On Friday, Mexico's foreign ministry warned its citizens in the US to "take precautions" and keep in touch with Mexican consulates in America, citing Garcia de Rayos as a cautionary tale.
"The case involving Mrs. Garcia de Rayos illustrates a new reality for the Mexican community living in the United States, facing the most severe implementation of immigration control measures," Mexico's Foreign Ministry said in a statement Friday.
On Sunday, marchers like Maria Eugenia Montes de Oca used Trump's own words to protest against him.
"Trump: Bad hombre for the whole world," Montes de Oca's sign read.
Flora Charner and Fidel Gutierrez contributed reporting to this story
Read more: http://www.cnn.com/2017/02/12/americas/mexico-trump-protest/index.html