Despite already winning an Oscar, appearing in 20 movies by 26 and now earning $20 million per picture, Jennifer Lawrence shows no signs of stopping or slowing down for a second.
"I don't like waking up with nothing to do or going to sleep without accomplishing anything," the actress said in a revealing new interview with Vanity Fair. "That really depresses me."
As the December cover star for the magazine, Lawrence opens up about what she would be doing if not for acting and the portrait she has of her dog (we're with you, Jen). She also spoke about where her friendship with Amy Schumer stands and why she's occasionally mean to fans (and Chris Pratt, but only in the mornings!).
If Lawrence didn't make it big in Hollywood, she may have been doing something totally different.
In a short video for the magazine, the "Passengers" star joked that she didn't have a contingency plan if she didn't make it in Hollywood, confessing instead she would probably be "laying in a ditch" or "stripping."
She has painting of her dog that her mom commissioned from a 14-year-old fan in New Zealand.
"Fuck it. I am the person who has an acrylic painting of her dog," Lawrence told VF. "I am a psychotic dog mom in a way that I am genuinely embarrassed about. If I could put her inside me and give birth to her I would." She only worries about having kids because they "would be incredibly jealous because I would still be way more attentive to Pippi than I would to them."
Yes, she's still friends with Amy Schumer, despite the rumors.
Lawrence who said she only lies when asked about "liking someone's work" got honest about her friendship with Schumer. Yes, she's still shooting the movie she wrote with Schumer and yes, the two are still friends.
"My brother asked me the other day, 'Everybody online thinks you and Amy [Schumer] aren't friends anymore,'" the actress said. "And I said, 'Oh, really, because everything online is always true.'"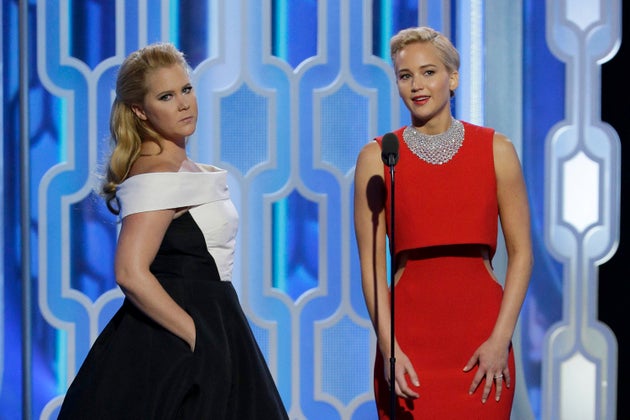 JLaw has no tolerance for fans that invade her privacy.
"You might think you know me, but when you approach me you're a total stranger to me and I'm scared." Lawrence said, adding that she gets "very protective of my space. It took me a long time to be able to do that."
And word to the wise if you happen to be at a restaurant sitting next to the actress, don't take a photo without asking unless you're ready to be called out (and rightfully so!)
"If I'm eating dinner and somebody comes up and a flash goes off from someone's iPhone camera, I am really rude to that person. Then other people at the restaurant will see and be like, 'Oh, damn, I don't want to do that.' Privacy is a full-time job and I work very hard at it," she added.
She loves Chris Pratt, but not during early call times.
"He is a ray of sunshine," Lawrence said. "We had to have a talk about his good moods at four in the morning, when he was encouraging the crew and I'm like the Grinch. I came on set like, 'No more smiling. No more dancing.'"
Pratt, for the record, doesn't disagree with Lawrence's assessment and told Vanity Fair, "Jen is really in to her emotions," adding "If she's mad, she'll let you know."
To read more of Lawrence's interview, head here.
Read more: http://www.huffingtonpost.com/entry/jennifer-lawrence-gets-real-about-her-friendship-with-amy-schumer_us_5832f388e4b099512f83afca