NEW YORK – Should I buy some Trump Success?
It was an eau de toilette in a manly navy blue package for sale in the marble-clad lobby of Donald Trump's 68-floor monument to himself, the Trump Tower on Fifth Avenue. I spritzed some. It smelled woodsy, clean … successful.
Did Ronald Reagan market a scent? No. So the Trump revolution, as viewed by Trump, is stronger, more profitable. As if Russian President Vladimir Putin agreed, he "inspired" the creation of his own fragrance, called Leaders Number One. Pathetic, as Trump would say. So lame. Go to Moscow if you want some.
As I examined a bottle of Success, it was hard to dispute the name, even though busy campaign guy Trump had fallen 203 places over the last year on the Forbes richest-people-on-the-planet list to No. 324, with a net worth of a mere $4.5 billion.
But forget money for a second — look at power. I was in Trump Tower just after Trump had won a smashing victory in the New York Republican primary, and as he was on his way to expected wins this week in a series of GOP contests in other mid-Atlantic states, such as Pennsylvania.
Republican voters and party insiders — and nervous world leaders — are grappling with the shocking, unsettling likelihood that Trump may well be the GOP presidential nominee.
At the Trump Tower, a saleswoman asked me if I wanted to purchase some Success. But before I could decide, I realized that I was late for appointments upstairs. I was there to explore, not to buy.

The tower is the citadel and symbol of Trump's unprecedented campaign. It's the key to understanding what he means in and to America. It is Trump World's Casterly Rock and, at the moment, the most important place in the Republican Party, if not all politics in the United States.
I know people who live and work there. I know the history and context. After a visit last week, I've seen most of it. Here's an explanatory guide:
You're Not Welcome
Trump won permission to add 20 profitable residential floors to the design by vowing to make the lobby an open and attractive public space.
It indeed is open to visitors for most of the day, but it's not a very hospitable place for the nonpaying public. There is little public seating and many plainclothes, easy-to-spot security men on duty. There was a public bench, but it was removed.
If you really want to get a nice seat, you can pay for one at the Trump Bar, which is where, according to one of the bartenders, The Donald himself conducts many of his interviews.
The only shop on the first floor features Ivanka Trump jewelry and fashions. It's decorated with a photo of the Trump scion at her ultra-blond, jet-set best. The lobby bar has a "Make America Great Again" poster behind the rows of whiskey; another bar downstairs features an oil painting of The Donald's father, real estate developer Fred Trump.
No Melting Pot
According to the polls, Donald Trump is reviled, in huge proportions, by demographic and political slices of America such as women and self-described Democrats, as well as African-American and Hispanic voters, among others.
He has charm and is undoubtedly shrewd, but he also has a record of lying at will, crudely disparaging women based on their looks, calling Mexican migrants rapists and drug dealers, and suggesting a ban on Muslims seeking to enter the country.
Trump is said to be the most unpopular person ever to be a front-runner for his party's nomination, or at least the most unpopular since the GOP's 1964 standard-bearer, Sen. Barry Goldwater of Arizona, who lost in a historical landslide.
If you want a diverse crowd, don't go to Trump Tower, go downtown or to Brooklyn. After a couple of hours of lingering and observation, it becomes clear that the foot traffic in the Trump Tower is not the apex of metropolitan diversity. It looks more like a Trump exit poll: mostly white, middle aged and part of the workaday private sector.
At the bar I met the owner of a non-union electrical contracting business in Boston. Unprompted, he told me that he had not attended college, which was one reason why he liked Trump so much: he was an inspiring example of the triumph of hard work.
The man had done well in 2015 ("Boston is booming," he said) and he had brought his wife down with the kids to celebrate her 60th birthday. He was proudly Italian, and Catholic, and in awe of Trump and what he had and might accomplish.
"This is historic," he said, looking around at the lobby. "I admit that I am for Trump. He shows what one man can accomplish."
He was a lovely, earnest fellow; his family was as kind as they come.
But it was only one slice of the pie.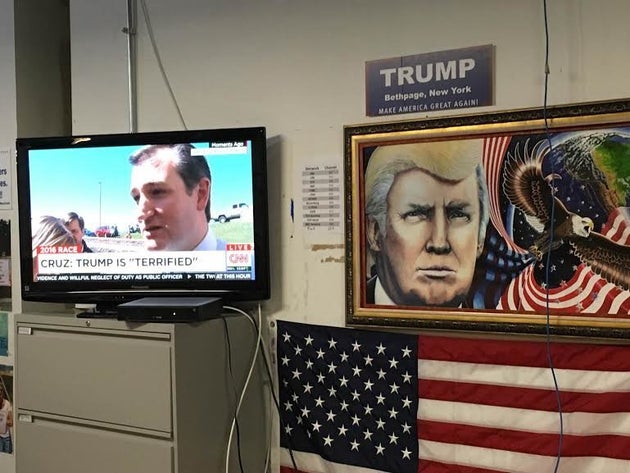 Reagan Era, But Not Reagan
Trump's jagged, soaring glass skyscraper was completed in 1984, the same year as Reagan's landslide re-election and the zenith of the era depicted in the movie "Wall Street," in which the character Gordon Gekko utters his infamous credo: "Greed is good."
The building is an artifact of the Reagan era, but Trump is to Reagan as gold-tone aluminum is to a gold bar in Fort Knox.
The key GOP politicos then were baby boomers who'd been inspired by conservative pioneers such as William F. Buckley and Goldwater. The young cadre was reshaping the GOP along Reaganite philosophical lines. At the time, Trump was a tyro tycoon, sniffing around the edges of the movement. He got to know the rising crowd, which included Charlie Black, Roger Stone, Paul Manafort and Karl Rove (and the late Lee Atwater and Terry Dolan).
Now Trump has turned to one of those Reagan-era veterans, Manafort, to run his convention. The Gipper's Southern campaign coordinator in 1980, Manafort, 67, is an international consultant and deal-maker with a roster of authoritarian clients that stretches from Saudi Arabia to Ukraine. He is also an expert at managing GOP conventions.
"I've known Trump for 30 years," Manafort told me last week.
Something else crucially important about Manafort: for many years he's kept an apartment in Trump Tower. In Trump World, that is a solid sign of commitment and wisdom. And it is convenient.
"Paul was right upstairs when we were looking for someone to help us," one of Trump's key inside people told me. "He knows us and we know him. He shares our views. And how convenient was that? He lives above the store."
But Trump is not a Reaganite. He professes to hate politicians and politics, yet is not anti-government. Just the opposite: he is for more government when it comes to global trade, immigration and dealing with terrorism. Nor does he object to most of the welfare state Reagan so distrusted.
Selling Trump, Manafort conveniently declared, isn't a philosophical crusade, but rather a mere matter of image management – reshaping The Donald's public "personality."
Black, Manafort's old business partner, is now a top advisor to "moderate" Ohio Gov. John Kasich. Would Black and Manafort try to do a deal in Cleveland to form a ticket? Well, Kasich worked for Reagan, too. It's worth watching.
History could repeat itself, either as tragedy or as farce — or both.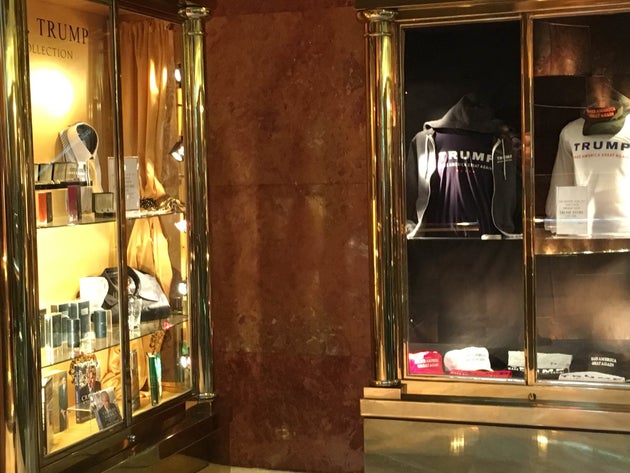 Rules Are For Wimps
Federal regulations are supposed to rigorously separate commercial from political fundraising.
But the conflation of commerce and politics is the essence of Trumpism and the Trump presidential campaign (and, many might argue, of American public life today).
So in the lobby you could buy myriad items glorifying the real estate and TV star aspects of his mogul-ness: cuff links, tie bars, ties, formal wear, trench coats (I was tempted), golf hats, golf club covers, baby clothing (no kidding) and books on how to be a success in the Trump manner.
But you also could gorge on items from his newly created political side: "Make America Great Again" baseball caps in assorted colors and fabrics, campaign books about how America was failing and 2016 ski hats, T-shirts, sweatshirts, posters, key chains, wristbands and sweatbands.
All In The Family
If you crossbred The Partridge Family, the Swiss Family Robinson and the Lannisters from "Game of Thrones," you'd end up with the Trumps: handsome, independent – and ruthless. And they all operate out of the same castle-treehouse.
Consider: The patriarch and his third wife, Melania, live in the tower penthouse with their young son, Barron. Many of Trump's close friends and business associates occupy apartments or condos on the 30 private floors below him. The main business office of The Trump Organization is on the 26th floor. Two sons (Don and Eric) and a daughter (Ivanka), involved in both business and political operations and increasingly visible on the trail and TV, are on the 26th and 25th. The campaign is on the fifth floor, in the cavernous space where "The Apprentice" used to be produced. Trump sells his commercial and political merchandise on the ground floor and lower ground floor.
There never has been anything quite like the Trump family in American politics, as a glance at presidential history shows.
Many families, after amassing fortunes, have made politics their business, but serve credentialing apprenticeships in government or elected office before seeking the presidency. They include the Rockefellers, Kennedys and Bushes.
Other families become synonymous with national politics by dint of multigenerational effort: the Browns in California, the Roosevelts in New York and the Stevensons in Illinois.
A few individual businessmen have entered presidential politics relatively late in life, notably Republican Wendell Willkie in 1940 and independent Ross Perot in 1992. But they were lone wolves, and weren't in it for the long haul.
Celebrities become presidential candidates, too, but not until they transformed themselves. Reagan was a movie actor and corporate pitchman, but became active in the labor movement and then was governor of California. He mounted two unsuccessful bids for the GOP nomination, in 1968 and 1976, before winning the White House in 1980.
Trump and his family are unique: a growing constellation of money, power and fame all working in tandem and in the same place.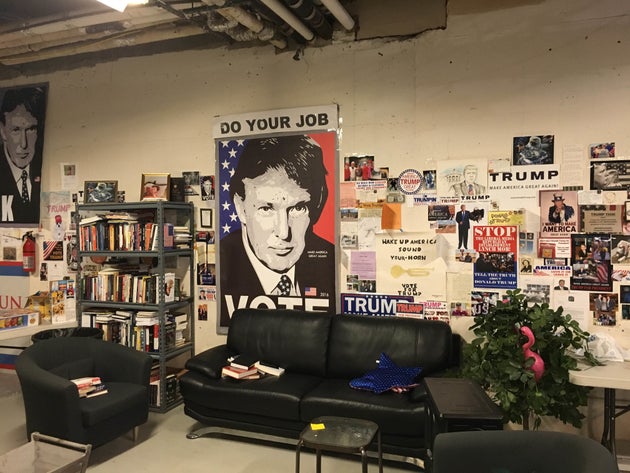 What Campaign?
The office walls of The Trump Organization offices are lined with color photos of its many trophy properties in the U.S. and around the world, and the upstairs lobbies feature scale models of skyscrapers, resorts and golf courses.
Trump's campaign headquarters, however, has the sparse, ramshackle look of a losing effort – or a front operation.
Even after his big victory in New York, the high-ceiling, concrete-walled space housed less than a score of staffers, desks scattered around the vast space, one television monitor (tuned to CNN) and barren offices.
Walls were covered with a bizarre assortment of Trumpian folk art: hand-painted portraits of Trump as a visionary hero; American eagles soaring above The Donald; Trump as a combination of Reagan and John Wayne.
Trump doesn't want and doesn't think he needs a campaign "operation" of a traditional political kind, and, indeed, he hasn't needed one to become the nearly prohibitive front-runner for the GOP presidential nomination. Efforts to turn his team into a more recognizable brand clash with Trump's own gut-based decision-making.
His "operation," such as it is, resides mostly aboard his own plane as he jets around the country appearing at rallies, and in the front cabin where he counsels with top aides.
There is one particularly interesting artifact in the campaign office. It is a precise scale model of the White House.
It's not a Trump property. Yet.
Editor's note: Donald Trump regularly incites political violence and is a serial liar, rampant xenophobe, racist, misogynist and birther who has repeatedly pledged to ban all Muslims — 1.6 billion members of an entire religion — from entering the U.S.
Read more: http://www.huffingtonpost.com/2016/04/24/inside-donald-trump-tower_n_9770894.html