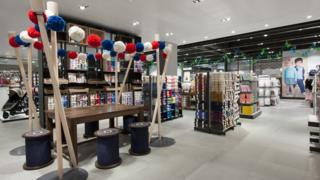 Rumours that High Street stalwart John Lewis would be dumping its haberdashery department in favour of bikini waxes have triggered an online reaction from customers and crafters. As the department store validates the beloved buttons will, in fact, be safe, we take a look at the enduring appeal of the haberdashery.
The rumours of the haberdashery's demise started after it was reported that John Lewis' new managing director, Paula Nickolds, would be cutting back the department.
Ms Nickolds, who starts her position in January as the shop's very first female manager/boss, began her career in the store's haberdashery department.
However in an interview with the Sunday Times she reportedly stated it would be moderately downgraded as part of a modernisation process to use brand-new services such as holidays, bikini waxes and prosecco bars.
The internet was pretty quick to respond, and fearing their department store was unravelling before them, clients immediately took to the social networks to lament the loss of stitching or sewing products.
Read more: http://www.bbc.co.uk/news/uk-37908223