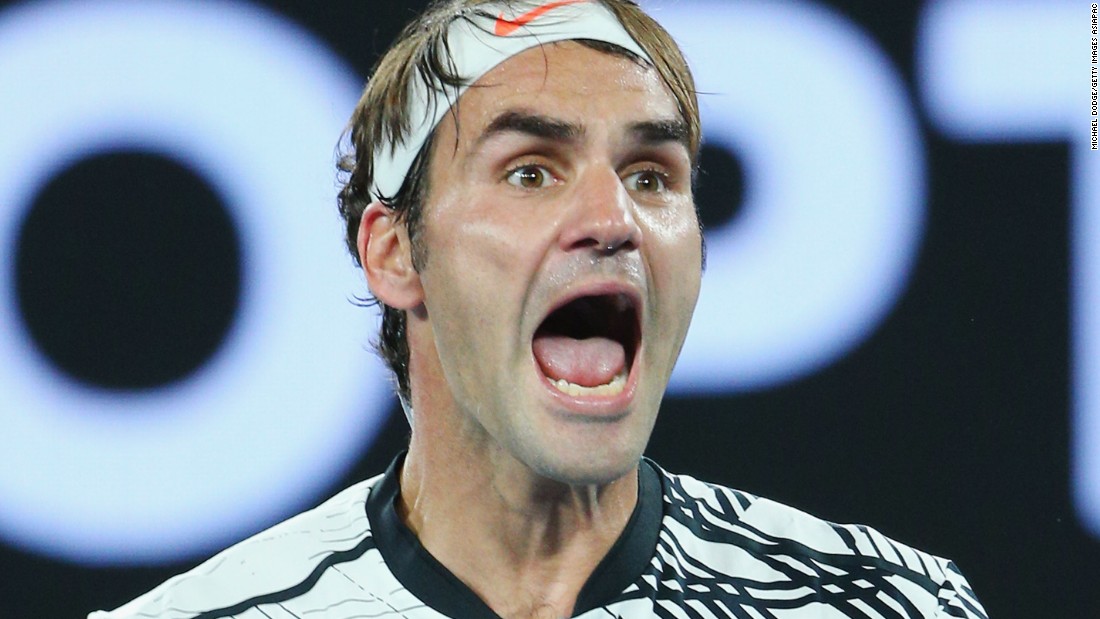 Melbourne (CNN)Last year Roger Federer was named the top athlete brand in the world by Forbes, and Time magazine once included the Switzerland native in its list of the top 100 people transforming the world.
Those are but a few examples of how he transcends tennis.
Don't expect Federer — as versatile as he is — to be making the Billboard charts anytime soon, though.
Federer posted a video on Twitter last week of himself and fellow pros Grigor Dimitrov and Tommy Haas singing Chicago's smash hit, "Hard to say I'm sorry" with the song's co-writer David Foster on piano — Foster is Haas' father-in law.
He was queried about the impromptu concert by Jim Courier during a light-hearted, on-court interview Sunday.
"I think I found a weakness in you," the retired four-time grand slam winner began.
"I thought it was terrible acoustics in that room," Federer countered, drawing laughs from his adoring public at Rod Laver Arena. "I thought Tommy saved us. He sang the song many, many times.
"And Grigor, I think he just looks good. His voice is terrible," smiled Federer, referring to his pal, the former boyfriend of Maria Sharapova and Serena Williams.
Federer's vocal skills may be up for debate but nothing's wrong with his tennis at the midway point of the Australian Open.
Indeed many could pose the question: Did Federer, a veteran of veterans at 35, really miss the last six months of 2016?
Rusty in his first two rounds at Melbourne Park, he has turned into the Federer of a decade ago when in his heyday.
The 17-time grand slam champion began his charge by toying with 10th-ranked Tomas Berdych in the third round in a mere hour-and-a-half, before edging fifth-ranked Kei Nishikori in five sets in a high-quality encounter littered with flashy winners.
A 'free tennis lesson'
"The first two rounds he didn't play well but against Tomas it was like a tennis lesson," Berdych's ever colorful coach, 2001 Wimbledon winner Goran Ivanisevic, said during a legends gathering at Melbourne Park on Monday. "A free tennis lesson on center court. Too many people watching."
On paper both results were upsets, since Federer's long layoff as he recovered from a knee injury saw his ranking drop from third in July to its current 17th.
Yet no one was really surprised given Federer's pedigree.
"I agree with Goran," said Nishikori's coach Michael Chang, the 1989 French Open winner. "In the last few matches he played very, very tough.
"Roger is the champion he is for a lot of reasons. I think all of us are very happy to see him back."
That Federer would return to the tour was never in doubt.
When he opted to sit out the remainder of 2016 after reinjuring his knee in a fall at Wimbledon in the semifinals, he made it a point to mention that he intended to play for not only 2017 but also 2018.
As his recovery intensified, Federer live streamed a practice session with France's Lucas Pouille on Periscope in late December that has been viewed more than 900,000 times.
Playing at the mixed Hopman Cup in Perth the first week of January gave Federer valuable match practice prior to seemingly being handed a wicked draw in Melbourne.
"I was impressed by the way he was playing in Perth," Mark Philippoussis, the man Federer beat for his first grand slam title at Wimbledon in 2003, told CNN. "He just looked so relaxed. He's having fun on the court. He looked happy. He looked in a great place, moving so incredibly well, hitting the ball well.
"And his matches have gone better and better. Did I expect him to beat Tomas? Yes, but not the way he did. He hit him off the court. Overpowered him. And that's tough to do against Tomas.
"Against Nishikori, that was going to be a tough one because to back up a match like (Berdych) was very difficult. You have a completely different animal. Nishikori is an incredible defensive player. Amazing mover. And Roger played great tennis."
If past results are anything to go by, Federer should continue his progress and move a step closer to winning a first major since Wimbledon in 2012. He faces Mischa Zverev in the quarterfinals.
Zverev stunned world No. 1 Andy Murray in four sets Sunday, less than a week after Denis Istomin posted a similarly seismic victory over six-time Australian Open champion Novak Djokovic. He employed a brand of exciting, net-rushing tennis becoming extinct in the game.
But in their last meeting in Halle four years ago, Federer inflicted a rare 6-0 6-0 double bagel on the 50th-ranked German left-hander.
"Obviously he's on a high right now," Federer told reporters. "He's feeling great. Probably feels the best he's ever felt on a tennis court. That's how I would feel after the win against Murray.
"It's going to be tough and different and tricky."
That may be but Federer will be expected to hit enough high notes to reach the semifinals, and the way he is performing, perhaps beyond.
Read more: http://www.cnn.com/2017/01/23/tennis/australian-open-federer-return-zverev-tennis/index.html